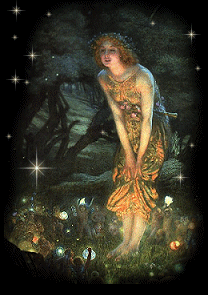 Hello and Welcome to my Divas of the Net Dedication Page. This is a wonderful group of women who have welcomed me with open arms. They listened to what I say and do not judge me. They accept me for who I am. There are no expectations of me, other than kindness and acceptance of others that join. Thank You to all of the DIvas. Thank You for being there and being true angels on the internet.

Each friend represents a world in us, a world possibly not born until they arrive, and it is only by this meeting that a new world is born.
~Anias Nin~

"DIVA CREED"
Women of the Net, whom have created a website
with love, compassion, and understanding.
Have given something of themselves to others.
Shared experiences, and hope. Has belief in
herself as a major contributor to the cyber world.
Her website will not now, or ever, be linked
to, nor contain any prejudicial, offensive, illegal,
or pornographic material!
A Diva is always willing to share ideas
and her philosophies, while maintaining
other's rights to their individuality.
She will welcome the insight of other Divas
and ponder their perspectives with consideration,
and a possible lesson to a higher
growth for her own thoughts.
A Diva will always strive to shed peace
and love throughout the internet community.
She will abide by the pledge
of the Divas at all times.


Visit some of the other dedication pages for the Divas of the Net.


WOOHOO! I was a named Diva Super Sleuth
for October 1999.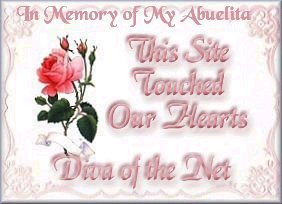 Thank You to Diva Kathryn for
presenting this award to me.
It means the world to me.
And I can't forget to Thank
Diva Barbara for nominating
my abuela's site.


Visit our founder's page, "Hearts Across the Miles". Kathryn
did a great job here. And there is alot to learn from
this page.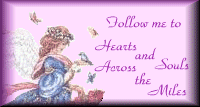 Diva Gifts 2001


The midi playing is "With A Little Help From My Friends".
It can be found at: