"The Darkest Time"
It was the end of April 1992 and my freshman year was closing in. Everything seemed to be going great, I had new friends, a job, and Freshman Year was almost over. But a dark day was going to come upon me and was oblivious to it.

I had just come home and my dad told me that my abuela was just rushed to the hospital. I didn't even wait to hear the rest nor did I bother to grab my car keys. I just ran, ran as fast as I could to the hospital. When I got there, my mother was in the emergency room waiting area. She said "Abuela stopped breathing, she stopped breathing on the way here. But, the doctors revived her. She is going to intensive care." I was so out of breath, I almost fainted. I started wheezing (I have asthma). My mother had to get a nurse. The nurse gave me a Provential treatment and told me to get some rest. My mother sent me home. The next day I returned, to find that my abuela was hooked up to all sorts of machines and that she had a heart attack. The doctors said she would be fine. A week later, they moved her from intensive care to special care. It looked good, she would be home soon. But while in special care she has another heart attack, revived again, and moved to intensive care. It did't look good, but a few days later she was back to normal. And again they moved her to Specail Care. Let me tell you, Special Care is no different that a regualr hospital unit. I argued with my mother not to let them move her, she needed more time being closely watched. But the doctors felt she was in good shape. A week past and on a Friday, I called my abuela at the hospital. She told me she would home on Sunday, the doctors say I am healthy again. I told my abuela I couldn't stop by that night because I had an "End of the School Year" party, but maybe I could stop by before I go to the party for a few minutes. She said to me in Spanish "Lisa, don't worry. Come in the morning, I will be waiting. Have a good time and be careful." I said I love you and I promise I will be there bright and early in the morning. I left for my party and when I got home, there was no one home. I didn't think. I just laid down and turned on the T.V. About an hour later my mother and father came home. My mother came to my room and had a sad look in her eyes. She told me abuela had another heart attack and was in a coma. I said no that can't be, she's coming home Sunday. But it was true and for the next week I spent all my free time at her bed side, praying. I went to church every day and lit a candle, begging god to please not take her away. A specialist finally finished all his test and told us grim news. My abuela was brain dead and that the multiple heart attacks in such short time had irreversibly damaged her. And on May 14, 1992 my parents without telling me decided to "pull the plug" from life support.



I came home that afternoon and found my mother sitting ouside our apartment building, waiting for me. I knew something was wrong. I started to cry as my mother told me abuela was gone. I could not accept it, I wanted to see her. But my mother said I couldn't, they had decided to have a cremation. I became angry, very angry and went up to the apartment and began punching and kicking holes in the walls. I was acting crazy and I couldn't stop. I blamed everyone, God especially because he didn't answer my prayers. My father came home from work, grabbed me, and held me. He gave me a valium and put me to sleep. I don't know how long I slept but the anger had subsided. I called my best friend Hernando. He told me to come over. He comforted me like no other person could. He was and still is my closest friend. A week later we had the memorial service for abuela. I didn't know if I could go. But Hernando came to my house bright and early and got me up. He was the only friend there for me. That time came and past. Now years later I still cannot bring myself to visit my abuela's grave. I have never see it and I hope that one day I can bring myself to go. I still don't forgive myself for not seeing her on that Friday.

I Did Not Die
Do not stand at my grave and weep.
I am not there, I do not sleep.
I am a thousand winds that blow.
I am the diamond glints on snow.
I am the sunlight on ripened grain.
I am the gentle autumn rain.
When you awaken in the morning's hush,
I am the swift uplifting rush
Of quiet birds in circled flight,
I am the soft stars, that shine at night.
Do not stand at my grave and weep.
I am not there, I did not die.
Author Unknown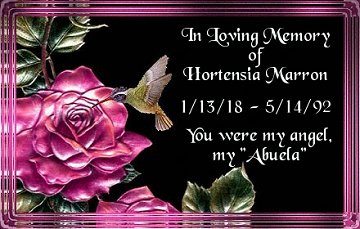 "Abuela, te quero mucho"
You are the angel that sits on my shoulder and guides me. I know you are with me throughout everything. Your love has helped overcome many obstacles. And I felt you there on my wedding day. You were watching and smiling. I know you are in heaven and we will be together when it is my turn to pass into a new life.
~ My Angel ~
My Angel loves me this I know
I feel it when her heart's aglow
I feel her warmth when she is here
I always know when she is near
She calms me with her gentle love
She gives me strength from up above
I always know when she's around
It's hard for me to wear a frown
The gift of love is always here
She helps me get through all the fear
She dries my eyes with angel dust
And calms my spirit when life is tough
She does these things without a sound
And still I know when she's around.
~ Francine Pucillo ~
(used with permission, @2000)

~ My Abuela ~
Dedicated to My Grandmother
Hortensia Marron
Date of Birth 01/11/1918
Date of ReBirth 05/14/1992
So many memories tucked away
I save them for a rainy day
Whenever I am sad or blue
I look at sky and I see you
My heart has always felt your touch
Your tenderness was loved so much
Your gentle smile and caring hand
Now lacy wings at God's command
Right before my face I see
My kind sweet Grandma loving me
Reaching for me from the sky
I never have to say good-bye
What a gift she gave to me
Her heart of love I always see
In any mirror that reflects
I see a face I won't forget
A special angel flying high
Special colors in the sky
Sending down her sparkling light
Glowing in God's love so bright
What a treasured memory
The love I feel so endlessly
Reaching out like precious lace
Forever feel her sweet embrace.
~ Francine ~
(used with permission,@2000)
Thank You Francine for writing this.


Abuela, you are and always will be the wind beneath my wings. You are in my heart now and forever. Until we meet again abuela. This is for you, know I always think of you.